Our department offers several degree options the students can pursue. Find out more below: You only need to choose the program that suits your interests and career choices.
This undergraduate program will teach you to design electronic circuits and use them in modern applications and communication devices, all in our cutting-edge labs. You will learn to design embedded systems and communication platforms and to create communication protocols. At the beginning, you will need to complete courses in mathematics, physics, and materials for electronics. At the same time, though, you can choose whether to specialize in electronic and integrated circuits, microcontrollers and system programming, or mobile systems.

After successfully completing the program, you will be a specialist in the design and use of electronic circuits and technology for electronics, communication, and embedded systems. A successful graduate will be a much-desired asset to companies looking for a specialist in the field. Alternatively, you can decide to go on with your studies to obtain a degree in, say, Telecommunications or Electronics and Communication systems.
We have a good dose of electronics for you: a study program that will teach you to design integrated and electronic circuits and systems as well as to use the relevant materials, all in our cutting-edge labs. The courses will give you a real taste of your future specialization through designing integrated and electronic circuits and equipment, programming microcontrollers, and learning about the latest materials for electronics.

The program will make you a specialist in the design and use of electronic circuits, systems and technologies for electronics. As a successful graduate, you will be able to choose from among dozens of electronics designers and manufacturers reaching out for you to join their teams! Surely you will also be attractive to technology companies and research institutions. And if you feel like studying further, you can take a Ph.D. in Microelectronics and Technologies.
You will gain expertise in complex electronic circuits and modern technologies used within electronics. During your studies, you will be using our cutting-edge faculty laboratories. You can choose your courses based on your interest. Whichever path you choose, you will still need to pass an exam in English.
As a Ph.D. graduate, you will be a leading expert in the design and utilization of electronic circuits and technologies. You can apply for a managerial position to lead a research team, or you can start your own business. If you are aiming for an academic career, you will have an opportunity to take part in various research projects and share your knowledge with undergraduate students.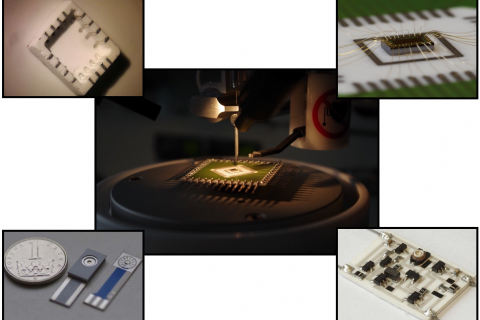 More information
Information on Open Days, applications, entrance exams, etc. can be found on the faculty website. You will also find information on the combined form of study here.
Did you know…?
Some of the lab practicals take place in the clean rooms at CEITEC BUT (Brno University of Technology).
Chip design is taught by using a Cadence professional chip-design software.
We use a semi-automatic line for assembly technology training.
We are the only FEEC department that offers courses taught by external experts all year round.